Attention A T users. To access the menus on this page please perform the following steps. 1. Please switch auto forms mode to off. 2. Hit enter to expand a main menu option (Health, Benefits, etc). 3. To enter and activate the submenu links, hit the down arrow. You will now be able to tab or arrow up or down through the submenu options to access/activate the submenu links.

War Related Illness and Injury Study Center
CA WRIISC Integrative Health and Wellness Program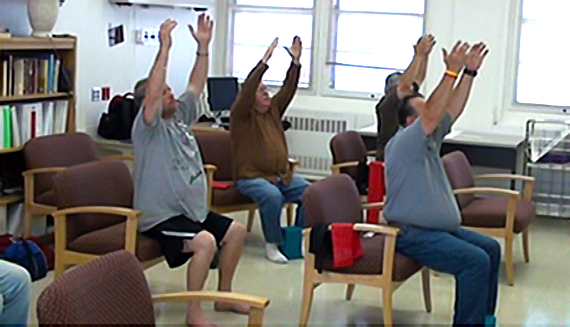 Resources & Links
Yoga Class Schedules
Flyers & Handouts
Publications
Complementary and Integrative health (CIH) is a phrase used to describe health care practices that combine western medicine with complementary techniques not found in conventional medical treatments. They can be used to target specific health conditions or as one part of an overall wellness program. The CA WRIISC incorporates yoga and meditation practices into its clinical program and has developed an active research portfolio on yoga.
What CIH options are offered at CA WRIISC?
Online Chair Yoga
CA WRIISC began providing yoga classes for local Veterans in January 2010 and expanded the program to include telehealth yoga via Clinical Video Telehealth (CVT) program in 2012.

CA WRIISC currently offers 6 weekly online chair yoga classes through VA Video Connect open to all VA-enrolled veterans with a referral from their VA clinician.
CA WRIISC also provides yoga classes to specialty care groups including in-patient and out-patient mental health, stroke, spinal cord injury, and pulmonary rehabilitation groups upon request and availability of yoga facilitators.
The classes are appropriate for Veterans of all fitness levels. Yoga classes can help provide relief of symptoms from chronic pain, fatigue, stress and anxiety, enhance balance, and improve general health and sense of well-being. Yoga can help improve flexibility, but you do not have to be flexible to begin taking these yoga classes.
Chair yoga classes are available for all Veterans enrolled in health care at the VA - including community clinics - regardless of age, gender, and combat status. Veterans must be referred by a VA clinician.

VA clinicians can refer their patients to this class with a consult request to WRIISC Yoga Wellness for local veterans or IFC WRIISC Yoga Wellness for national veterans (indicating "for yoga" in the comments).

Class times can be found in the yoga class schedule.
Phone-in Yoga Nidra Meditation
CA WRIISC also offers a weekly yoga nidra meditation class by phone to all VA enrolled Veterans regardless of location or geographic location. Yoga nidra is a spoken word guided meditation that promotes a sense of deep calm while enhancing awareness. The meditation class follows the 10 stage iRest™ protocol. During class, Veterans:
Discover a heartfelt mission and purpose and establish a goal for the meditation
Establish and connect with an inner safe haven
Explore the connection between body sensations, emotions, thoughts and beliefs with an awareness of how thoughts and emotions affect the body and mind
Experience the inner joy that is always present and develop a deeper awareness
Connect with an inner strength and resiliency in order to more appropriately respond rather than react to situations in life
Veterans may also benefit from the restful sleep-like state achieved during the meditation.
CA WRIISC provides this meditation class weekly to referred Veterans from the comforts of their own home and provides Recorded Meditations to enable Veterans to establish a daily practice.
When practiced regularly, yoga nidra meditation can help reduce stress, ease pain, improve sleep and provide the practitioner with a sense of calm and well-being.
Veterans may join the class at any time and VA clinicians can refer their patients to this class with a consult request to IFC WRIISC Yoga Wellness.
How do I enroll?
VA-wide Yoga Nidra Meditation classes:
Enter an "IFC WRIISC Yoga Wellness" consult request in the Computerized Patient Record System (CPRS)
Note: If you have trouble finding the consult in CPRS or if the consult template is not yet installed at your VA facility, please contact us at 1-888-482-4376. Be sure to state the name of the VA facility you are calling from if you leave a message.
Palo Alto Online Yoga Classes:
Enter a "WRIISC Yoga Wellness" consult request in the Computerized Patient Record System (CPRS)
VA-wide Online Yoga classes:
Enter a "IFC WRIISC Yoga Wellness" consult request in the Computerized Patient Record System (CPRS) and indicate "for yoga" in the comments
Veterans will receive instructions for how to join the classes once they are referred.
For more information contact WRIISC yoga staff at 1-888-482-4376.
When are Classes Offered?
Yoga Class Schedule
The following classes are offered to all VA enrolled Veterans
Monday 3:00 pm - 4:00 pm - Chair Yoga, (All Veterans)
Tuesday 2:00pm - 3:00 pm - Chair Yoga, (Women Veterans)
Tuesday 3:15 - 4:15 pm - Qi Gong, (All Veterans)
Wednesday 11:00 am - 12:00 noon - Chair Yoga, (All Veterans)
Thursday 10:00 am - 11:00 am - Chair Yoga, (All Veterans)
Thursday 5:00 pm - 6:00 pm Pacific Time - Yoga Nidra Meditation by telephone, (All Veterans)
Call 1-833-558-0712, Use Access code 199 731 6363
Friday 10:00 am - 11:00 am - Chair Yoga, (All Veterans)
Do you have any online resources?
Please visit the new Recorded Meditations page.
You will find links to mp3 recordings of an 8-session iRest™ meditation series and a short relaxing body scan meditation
Integrative Health and Wellness Research
The CA WRIISC is actively studying the beneficial effects of yoga for Veterans in both the clinical yoga program and in funded research studies. There have been two funded yoga treatment studies and the CA WRIISC:
A VA Merit award to determine whether a breathing meditation technique (Sudarshan Kriya Yoga; SKY) provides a treatment benefit that is as effective as the standard psychotherapy (Cognitive Processing Therapy, CPT-C) for Posttraumatic Stress Disorder - enrollment period is now closed
A joint DoD-VA funded study using yoga as treatment for chronic pain in Veterans from Operation Desert Shield/Desert Storm - enrollment period is now closed
More information about both of these studies can be found on the Volunteer for Research section of this website.

The CA WRIISC continues to seek funding for CIH research projects for conditions and symptoms affecting post deployment Veterans.

Yoga Program Evaluation
Veterans who participate in yoga classes at the CA WRIISC are periodically asked to complete a program evaluation questionnaire. While this is not strictly research, information gathered can be useful to determine which Veterans might benefit the most from the practice of yoga. The table below provides a summary of the most common symptoms endorsed by Veterans attending CA WRIISC yoga classes and the percentage of those who had "Some" or "Complete" improvement in those symptoms.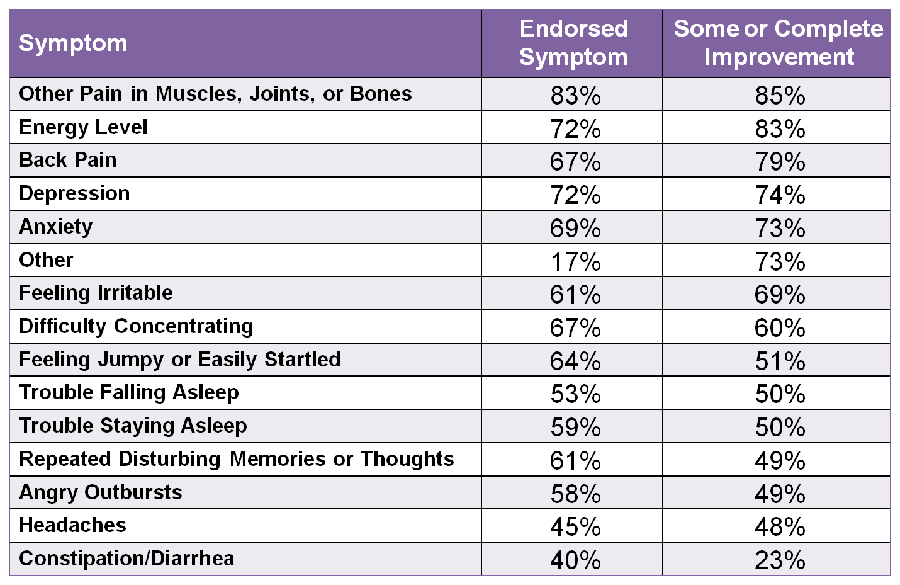 Publications and Presentations
Publications
Presentations
Contact Us
For more information about yoga classes offered by the CA WRIISC contact:
WRIISC Yoga Program
3801 Miranda Avenue, Mailcode 151Y
Palo Alto, CA 94304-1290
Phone: 1-888-482-4376
return to top