Attention A T users. To access the menus on this page please perform the following steps. 1. Please switch auto forms mode to off. 2. Hit enter to expand a main menu option (Health, Benefits, etc). 3. To enter and activate the submenu links, hit the down arrow. You will now be able to tab or arrow up or down through the submenu options to access/activate the submenu links.

War Related Illness and Injury Study Center
WRIISC Advantage Newsletter
The WRIISC Advantage newsletter features useful and timely information on deployment health concerns of Veterans and features specific areas of research underway at the WRIISC. The issues are provided here listed with the latest issue first. You may subscribe to receive a printed or electronic copy of this newsletter by contacting us by email.
WRIISC Advantage, Fall 2023

In This Issue
Volunteer for WRIISC Research Studies
Refining Care for Women Veterans
Furthering Exposure Education for Providers
Common Questions about Research
View PDF version ->
WRIISC Advantage, Spring 2023

In This Issue
Complementary Integrative Health & Gulf War Illness
Questions & Answers WRIISC Research
ENRICHING CARE For Veterans with Military Environmental Exposures
View PDF version ->
WRIISC Advantage, Winter 2023

In This Issue
Startup of WRIISC-HOMEs Military Exposures Clinical Brief Series
Yoga as Treatment for Chronic Pain/Fatigue in Gulf War Veterans
Read about our PACT Act Response
View PDF version ->
WRIISC Advantage, Fall 2022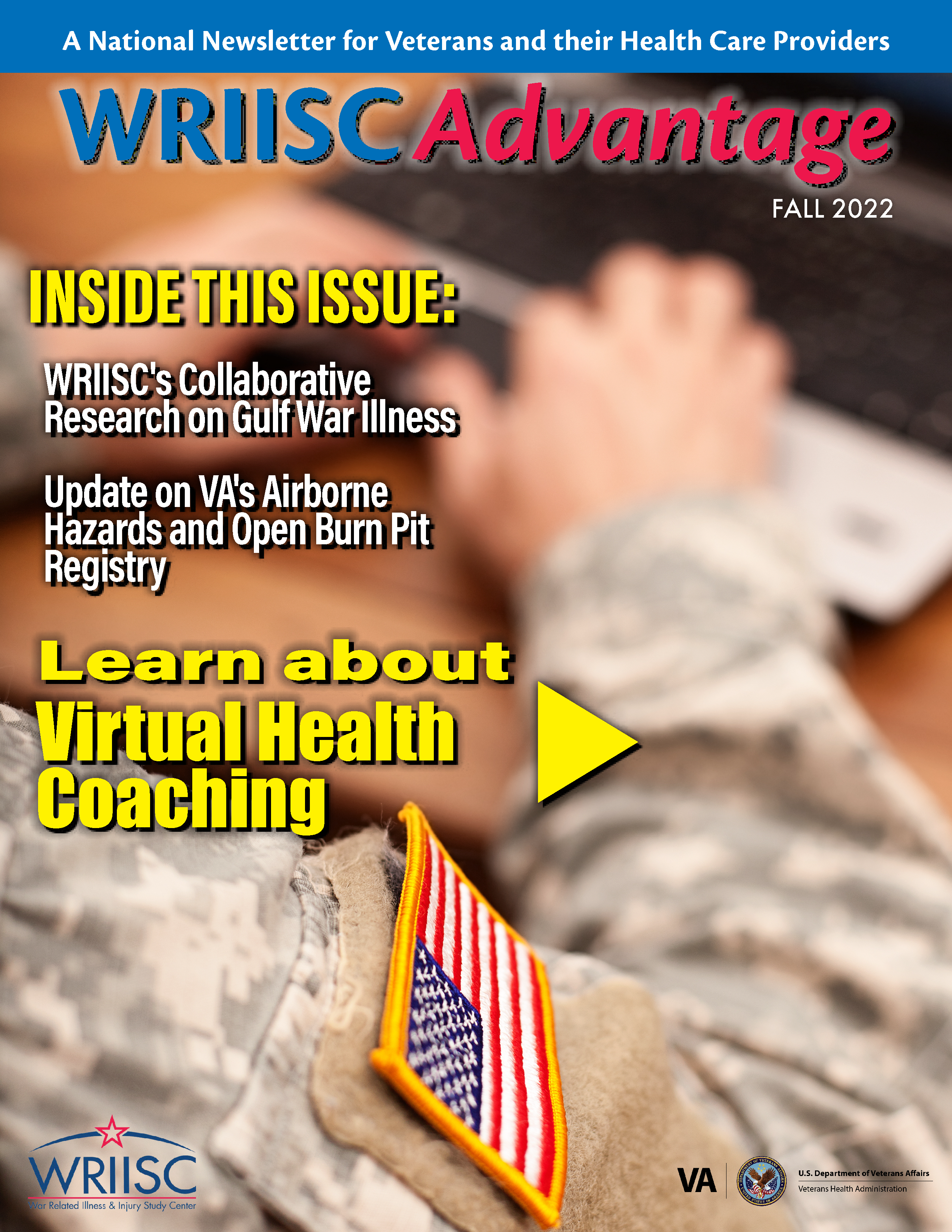 In This Issue
Learn About Virtual Health Coaching
WRIISC's Collaborative Research on Gulf War Illness
Update on VA's Airborne Hazards and Open Burn Pit Registry
View PDF version ->
WRIISC Advantage, Spring 2022

In This Issue
Exposure Education for Providers
WRIISC Research Advances
Research Studies for Gulf War Veterans
Veterans Make Research Possible
View PDF version ->
WRIISC Advantage, Winter 2022

In This Issue
NJ Site Director Appointed
Importance of Collaborators
Health Coaching Takeaways
WRIISC Employee Spotlights
View PDF version ->
WRIISC Advantage, Fall 2021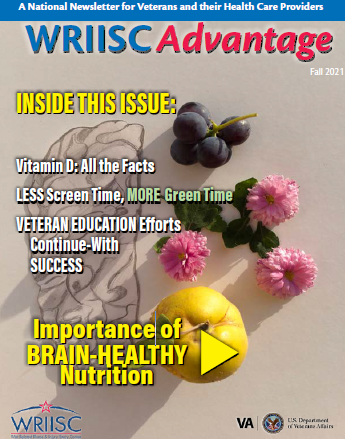 In This Issue
OUR STORY
Importance of BRAIN-HEALTHY Nutrition
Vitamin D: All the Facts
LESS Screen Time, MORE Green Time
VETERAN EDUCATION Efforts Continue - With SUCCESS
View PDF version ->
WRIISC Advantage, Spring 2021

In This Issue
OUR STORY
Perspectives from Past Leadership
Inspiring Words from Veterans
Spreading Research Lessons
Summary of Accomplishments
20 YEARS LATER: Look How We've Grown
View PDF version ->
WRIISC Advantage, Fall 2020

In This Issue
Institutional Courage Initiative Update
Highlighting Our Collaborating Partners
PROTECTING MENTAL HEALTH DURING COVID-19
View PDF version ->
WRIISC Advantage, Spring 2020

In This Issue
Caregivers Help Veterans Live Optimally
Exposure Updates
Institutional Courage and Veterans' Health
Addressing COVID-19 through WRIISC Services
View PDF version ->
WRIISC Advantage, Fall/Winter 2020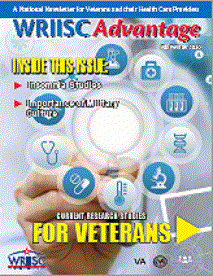 In This Issue
Insomnia Studies
Importance of Military Culture
Current Research Studies for Veterans
View PDF version ->
WRIISC Advantage, Summer 2019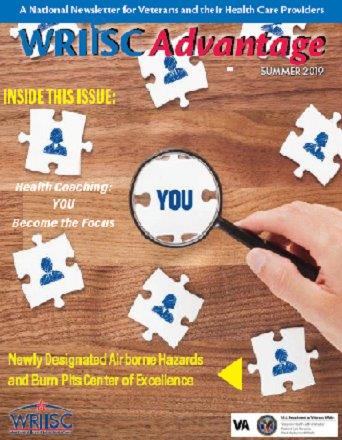 In This Issue
NEWLY DESIGNATED Airborne Hazards and Burn Pits CENTER of EXCELLENCE
Health Coaching: YOU Become the Focus
View PDF version ->
WRIISC Advantage, Winter 2019

In This Issue
Read about our accomplishments in 2018
FREE phone-based MINDFULNESS MEDITATION and iREST TM YOGA NIDRA CLASSES for Veterans
Learn about our telehealth services
View PDF version ->
WRIISC Advantage, Summer 2018
In This Issue
The Gut and Brain Health Connection
Why Body Movement and Physical Activity Matter
Gulf War Illness
Phone-Based Mindfulness Mediation Classes
View PDF version ->
WRIISC Advantage, Winter 2018
In This Issue
Post Deployment Health Services (PDHS) - War Related Illness and Injury Study Center (WRIISC) as Foundational Services
All about Balance
Phone-Based Mindfulness Mediation Classes
View PDF version ->
WRIISC Advantage, Spring/Summer 2017
In This Issue
Our Focus on Exposures
New Camp Lejeune Presumptions
Our Education Efforts for Veterans and Providers
Current Research Studies
View PDF version ->
WRIISC Advantage, Fall/Winter 2016
In This Issue
Learn about Our Clinical Services
Our Research Highlights
Our Education Efforts for Veterans and Providers
View PDF version ->
WRIISC Advantage, Spring/Summer 2016
In This Issue
Learn More About the Roles of Diet/Nutrition and Health
The Benefits of Eating Whole Foods
Exercise for Chronic Conditions
Maintaining and Sustaining Good Health
View PDF version ->
WRIISC Advantage, Fall/Winter 2015
In This Issue
Military Sexual Trauma and Post-Deployment Health
New Referral Process
WRIISC Remains Dedicated to Gulf War Research
The Veterans Choice Program
View PDF version ->
WRIISC Advantage, Spring/Summer 2015
In This Issue
Gulf War Research at VA and the WRIISC's Role
Understanding the Pathophysiology of Gulf War Illness
View PDF version ->
WRIISC Advantage, Fall/Winter 2014
In This Issue
The Role of Education in Veteran Health
Initiatives to Enhance Provider Education
A Veteran's Story of Managing Her Own Health
View PDF version ->
WRIISC Advantage, Spring/Summer 2014
In This Issue
VA's Airborne Hazards and Open Burn Pit Registry
Information for Veterans on Airborne Hazards
Clinical Care and the Latest Research
View PDF version ->
WRIISC Advantage, Fall 2013
In This Issue
Clinical Services
Research to Improve Veteran Health
How We Share Our Expertise
View PDF version ->
WRIISC Advantage, Summer 2013
In This Issue
Pain Management and Alternative Pain Treatments
Managing Chronic Pain
New Studies focusing on Gulf War Veterans
View PDF version ->
WRIISC Advantage, Winter 2013

In This Issue
Addressing exposure to Airborne Hazards
The Integrative Health and Wellness Program at DC WRIISC
New Findings in Migraine Research
Innovative Treatments for Veterans
View PDF version ->
WRIISC Advantage, Fall 2012
In This Issue
How Food Affects Your Mood
How Healthy Relationships Lead to Healthy Bodies
Change Theory for Chronic Pain and Fatigue
View PDF version ->
WRIISC Advantage, Spring 2012
In This Issue
A Veteran's Story of Honor, Courage, and Commitment
Sleep Research at the WRIISC
Cognitive Behavioral Therapy for Insomnia
View PDF version ->
WRIISC Advantage, Fall 2011
In This Issue
WRIISC Research
Research Studies Recruiting Participants
National WRIISC Conference: Caring for Veterans: Moving Forward in Quality Care
View PDF version ->
WRIISC Advantage, Summer 2011
In This Issue
Health and Wellness for Veterans with Limited Mobility
What Graded Exercise Can Do for You
Learn Veteran Brent Casey's Story
Mark Your Calendars: Events for Providers
View PDF version ->
WRIISC Advantage, Fall 2010
In This Issue
Improving the Health of Gulf War Veterans
Marking Nearly 10 Years of Service to Veterans
Complementary and Alternative Medicine at the WRIISC
News from Around the WRIISC
View PDF version ->
WRIISC Advantage, Spring 2010
In This Issue
Veteran Students
Spotlight on Veteran Charonda Taylor
VA's Post-Deployment Integrative Care Initiative (PDICI)
News from Around the WRIISC
View PDF version ->
WRIISC Advantage, Winter 2010
In This Issue
What the OEF/OIF Care Management Team can do for you
Evolving Paradigms
News from Around the WRIISC
View PDF version ->
WRIISC Advantage, Fall 2009
In This Issue
Meet the WRIISC
Identifying Emerging Health Problems in Recently Returned Veterans
Complementary & Alternative Medicine
Traumatic Brain Injury
View PDF version ->
return to top