Attention A T users. To access the menus on this page please perform the following steps. 1. Please switch auto forms mode to off. 2. Hit enter to expand a main menu option (Health, Benefits, etc). 3. To enter and activate the submenu links, hit the down arrow. You will now be able to tab or arrow up or down through the submenu options to access/activate the submenu links.

War Related Illness and Injury Study Center
Todd's Homecoming Story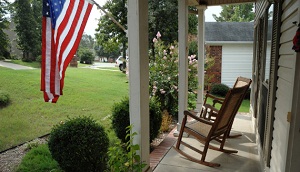 Todd grew up as "a kid who was always playing Army in the backyard." He enlisted in the Marines as a Private as soon as he could, at the age of 17. "For me, the Marines was a calling." Over the 22 years he served in the military, he was deployed to missions around the world, including Al Anbar province in Iraq in 2004 and 2005. While in Iraq, he served exclusively in combat operations—his entire tour was involved in major battle. Todd was incredibly proud of his young Marines, but he also carried a tremendous amount of grief over the ones who were injured and the ones who didn't come home.
"What brought me here [to the VA] was that I was carrying so much grief. I didn't know what to do with that." After coming back from Iraq, Todd spent three years trying to heal himself on his own, but said that was like "poison ivy—the more you scratch it the worse it gets." In 2009, he was completely worn out. "My mind and body shut down for a week. I was at the end of my rope." Shortly afterward, he visited his dad who helped him find a psychiatrist, but he continued to feel like his pain was influencing his personal, professional, and family life—his emotional bandwidth was so consumed with dealing with his grief that he had no energy to deal with anything else. As a small business owner, he was pummeled by the Great Recession, his relationship with his wife was strained, and his mental health had reached a breaking point. "I was so inside my own brain that I couldn't make good decisions. Nothing in my life was working."
In 2010, he was driving and happened to pass a VA Medical Center. He made a U turn, walked in and said, "I need some help. I can't do this on my own."
That choice for survival became a choice for health, and Todd made a commitment to spend 2010 taking care of himself. With a preference for avoiding medication, he created a methodical, rigorous action plan for self-care that he followed with diligence. He dropped caffeine, significantly reduced alcohol consumption, and began to reduce sugar intake. He began exercising more and researched nutritional modifications he could make in his diet that could reduce depressive symptoms.
However, he identifies the lynchpin of his care as a one on one relationship with WRIISC acupuncturist, Alaine Duncan. Alaine and Todd used a two-pronged approach of acupuncture coupled with discussion to help Todd process his grief. As he went through treatment with Alaine, he worked hard to incorporate those new attitudes and feelings into his life. He kept an extensive workbook and journal of how he was feeling as he faced his grief. For forty five minutes to an hour each morning, he would go through a decision tree provided to him by a VA psychiatrist as he asked himself, "How am I feeling about this grief and pain today?" He made flashcards and posted signs to help him integrate lessons about how to build his mental capacity to live his life fully. After Alaine encouraged him to "take it slow," he posted a "School Zone" sign on his office door. A note on his speedometer reminded him to "Notice the things around you."
Todd met Alaine in a group auricular acupuncture class after being prescribed acupuncture by an OEF/OIF/OND Social Worker. During his first few classes, he struggled to keep himself together. "I couldn't relax without being completely overwhelmed by the grief. I spent all my time being a gatekeeper. When I wasn't at the gate, the grief would flood through." But Todd persevered through his embarrassment and the lengthy, burdensome referral process, and he began to see Alaine for one on one treatments. "I just wanted the pain and the grief to stop," he said. "I gave my heart and my soul to my Marines, but I was left with the residual effect of not knowing how to take care of myself." With the military's emphasis on selfless service and sacrifice, many Veterans return home without skills for self care. "A lot of the guys coming back from Afghanistan and Iraq don't realize how deeply they are involved in their calling—they put their trauma in the closet and try to power through it on their own. I knew I couldn't be like some Veterans who could put the pain and distress away for 40 years. It was eating me alive."
"On the battlefield, you're not taking care of yourself—you're seeking out the enemy and taking care of your Marines," said Todd. "But this is not the same fight. It takes a different set of weapons."
Through his tireless work and his treatment with Alaine, Todd saw improvements in all the spheres of his life—personal, professional, and familial. The difference, he said, is that now, "I'm here. I had always been somewhere else, or warding off thoughts of Iraq. Now I'm showing up for my life, and being present has improved everything." He feels more aware of his emotions as they arise, and can come up with strategies for approaching them. "I realized you can't control the things around you, but you can control how you respond." He is now able to listen, understand, and respond to his wife, and their relationship has improved significantly. With his business, he is able to be present with clients and projects, and now has the bandwidth to see opportunities and make plans for the future.
He credits much of this multi-faceted transformation to his work with Alaine. "Alaine really understands what a Veteran is going through, and she guided me through this healing." Ultimately, said Todd, "The acupuncture program has given me the mental space to help myself get better."
Todd also spoke with tremendous, heartfelt empathy for his fellow combat Veterans who have lost friends and faced death. "If you think you're struggling, you're struggling, and you've got to speak with someone about it. Go to somebody you trust to address these things you that think you might be struggling with. Go today. You can't and shouldn't do it alone."
Todd feels sure his acupuncture with Alaine at the WRIISC was a "key determinant" of his healing, and he encourages his fellow Veterans to be open to whatever treatment a VA health care provider might recommend. "If they tell you to go stand on your head and smell a tulip in your boxer shorts in your front yard, try it. They know what they are doing."
Todd explained that his healing process has also dramatically changed his life goals. He spoke about this transformation using the analogy of a home. "For the first couple of years after I got back, I was shut in the house. I thought I was taking care of myself by not going out, but I wasn't." A few months ago, he told Alaine, "I'm on the porch now. I can see out into the yard, but I can go back in the house if I want. Now I feel like I'm walking down the stairs, and I can see all the way down the road—places I want to go, people I want to visit. I had lost the ability to see my life clearly—it's a pretty fundamental shift."
Todd underscored the critical role of the VA in helping wounded warriors to heal. "The VA is quite important. I never understood what the VA brings to the table until now. People who have helped me have been lifesavers in the truest sense."
The staff of the WRIISC offer their sincere thanks to Todd for sharing his story.
return to top