Attention A T users. To access the menus on this page please perform the following steps. 1. Please switch auto forms mode to off. 2. Hit enter to expand a main menu option (Health, Benefits, etc). 3. To enter and activate the submenu links, hit the down arrow. You will now be able to tab or arrow up or down through the submenu options to access/activate the submenu links.

War Related Illness and Injury Study Center
Provider Training
NEW!!! Military Exposure Clinical Brief Series
WRIISC-HOME, in partnership with the Office of Primary Care, presents this educational series as a resource to support VA staff in carrying out the PACT Act. Each brief is designed to support the mission of improving health care and benefits for Veterans with military exposure concerns.

Up Next: 4/5/2023:REGISTER Now! WRIISC-HOME: Tips for Working with Veterans with Airborne Hazards Concerns

Access Links:
Non-VA employees click here.
VA employees click here.
​​​​​​
In addition to providing research and clinical services, WRIISC's education mission provides free training to Veterans and health care providers (both VA and non-VA), plus other government agencies, and community providers to ensure providers are trained on topics related to the health outcomes of military exposures.

Veterans have unique health concerns which may not exist within other populations. As a result, Providers who see and treat Veterans need a clinical understanding of the challenges Veterans increasingly face from potentially "toxic" military and deployment-related environmental exposures. Veterans often report the need for their VA and community providers to be more educated about these exposures. The VA is uniquely qualified to care for Veterans with health concerns related to potentially toxic exposures. All VA Providers should consider military and deployment exposures as core competencies. WRIISC recognizes this as imperative and in conjunction with the newly named VA Health Outcomes of Military Exposures (HOME) office has created a comprehensive curriculum with content focused on key exposure and other clinical deployment health topics.
NOTE: VA health care providers have access to our trainings using the Talent Management System (TMS), the learning platform recommended for VA employees. Health care providers both in and outside of VA can access WRIISC trainings through the
TRAIN Learning Network, a national learning management platform. All VA Providers should consider military and deployment exposures as a core competency.
American College of Preventative Medicine (ACPM) Exposure Education Certification Program for Providers
Clinical staff along with Environmental Exposure clinicians at the WRIISC worked with Health Outcomes Military Exposures (HOME) staff in partnership with the American College of Preventive Medicine (ACPM) to develop a certification program designed for VA and other government agency providers as well as community providers interested in learning more about Veteran military exposure concerns.

Exposures among those deployed remain a concern among Veterans. They expect their providers to know about deployment related exposure concerns and conditions.

This certification program will provide clinicians with military environmental exposure training so they can independently assess and evaluate a Veteran who has military environmental exposure concerns and answer any questions the Veteran may have about specific military exposures.

Providers can now receive a Level 1 certification and continuing medical education credits upon successful completion of WRIISCs 5 E-learning modules and passing a comprehensive exam. An advanced level certification will be developed in the near future. Stay tuned!

More information on these exciting certifications can be found here: Military Environmental Exposures Certification | ACPM
E-LEARNING MODULES
| | |
| --- | --- |
| Five WRIISC e-learning modules serve as the core clinical education on exposure-related topics and are key and high priority learning for all VA primary care providers. Each foundational module is available to VA and Community providers and offers 1.5 of free CEU's. | |
Module
Title
Description
Register on TMS
Register on TRAIN
Assessing Deployment Related Environmental Exposures
(1.5 CEUs)
Intends to increase clinician knowledge and to inform learners about how to recognize the role and importance of deployment related exposure assessment, identify steps for determining deployment related environmental exposures, provide available post deployment health resources, and describe approaches to communicating deployment related exposure issues to Veterans, their caregivers, and their family members.
Mandatory Training for VHA/VBA Compensation and Pension Providers & VHA Clinicians
ID: 33195
ID: 1070234
Airborne Hazards
(1.5 CEUs)
Provides clinicians with the knowledge needed to identify and understand deployment-related airborne hazards concerns of Veterans.
ID: 33405
ID: 1070422
Gulf War Illness
(1.5 CEUs)
Provides health care providers with the knowledge needed to identify, diagnose, manage and appropriately treat Gulf War illness in Veterans and to become familiar with and be able to apply the VA-DoD Clinical Practice Guideline for Chronic Multi Symptom Illness as it can be applied to Gulf War Illness.
ID: 34572
ID: 1074205
Chronic Multisymptom Illness
(1.5 CEUs)
Offers healthcare professionals an opportunity to gain insight into chronic multi-symptom illness including the incidence in civilian and military populations, defining characteristics and the latest resources and management strategies to consider for care.
ID: 38029
ID: 1084440
Depleted Uranium and Toxic Embedded Fragments
(1.5 CEUs)
Provides health care professionals with knowledge about the current research on health effects in Depleted Uranium or DU-exposed (Pronounced D-U) populations, information about enrolling Veterans with suspected DU or toxic embedded fragments (TEF) fragments into VA registry programs, and guidance about the clinical approach to Veterans with TEF.
ID: 39365
ID: 1087697
Live and Recorded Webinars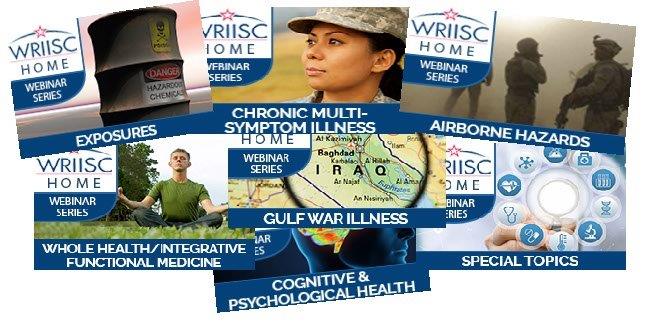 The WRIISC offers a free accredited annual webinar series for health care providers. Webinars reflect current best practices, science and policies, are categorized into clinical specialty areas, or "Collections" and provide introductory, intermediate and advanced level training to increase learning.

The webinar series was originally accredited under the WRIISC-PDHS in TRAIN/TMS. Reaccreditation of these webinars may occur under the new name WRIISC-HOME.
| | | | |
| --- | --- | --- | --- |
| Title | Description | Listen on TRAIN | Listen on TMS |
| Respiratory Issues of Returning Combat Veterans | This webinar increases provider knowledge and expands clinical care best practice awareness on Airborne Hazards and Open Burn Pit (AHOBPR) and its questionnaire. | ID: 1098250 | ID: 44408 |
| The Airborne Hazards & Open Burn Pit Registry Follow-up Exam: What We've Learned | This intermediate level webinar focuses on Airborne Hazards & Open Burn Pit Registry (AHOBPR), clinical exams and more advanced evaluations through the Airborne Hazards and Burn Pits Center of Excellence (AHBPCE). | ID: 1098312 | ID: 43714 |
| Chemical Warfare Agents and Weaponized Toxic Industrial Chemical Exposure | This webinar discusses these cohorts, treatment options and available resources to assist those Veterans who were exposed to chemical warfare agents during deployment in Iraq. | ID: 1098317 | ID: 42215 |
| The Effectiveness of Health Coaching: An Intervention for Veterans with Multi-symptom Illness | This webinar examines the hypothesized effectiveness of a Veteran-centered clinical health coaching intervention which incorporated self-discovery, education, goal setting, and accountability to significantly improve physiological, behavioral, psychological, and social outcomes in Veterans with multi-symptom illnesses. | ID: 1098323 | ID: 43743 |
| Military Cultures- Experience. Reintegration and Whole Health | This webinar educates VA staff about Veteran military life, what life is like after deployment, and what VA and community health care providers should know about military service so that they can provide optimal health care for Veterans within the context of a whole health approach. | ID: 1072371 | ID: 33979 |
| Food and Cognition: The Interplay of Nutrition and Neuroscience | The physical, energetic, and emotional effects of food from a neurological and nutritional perspective which many Veterans with chronic multi-symptom illness need to address their mood dysregulation, lack of mental clarity and fatigue in order to establish both realistic goals and action steps to improve their health are discussed in this webinar. | ID: 1098315 | ID: 43930 |
| Advances in Brain Stimulation Therapies to Boost Veteran Mental Health | Repetitive Transcranial Magnetic Stimulation (TMS) is a non-invasive FDA approved treatment for refractory depression, This webinar introduces it and increases knowledge on how it has been shown to clinically improve Veterans depression at the CA WRIISC site. | ID: 1096332 | ID: 43511 |
| Gender Differences in Symptoms and Functional Outcomes in Veterans with TBI | This webinar provides interdisciplinary audience and healthcare teams insight and raises awareness of differences in the way Traumatic Brain Injury (TBI) is experienced in men and women. It also looks at how social constructs as well as physiological differences affect the success of diagnosing and treating TBI. | ID: 1098320 | ID: 43712 |
| Psychosocial Stressors, Strength and Resilience of Combat Veterans | This training provides insight into the psychosocial barriers affecting post-deployment health, as well as the strengths and resources that can maximize combat Veterans' well-being. | ID: 1098329 | ID: 43710 |
| Deployment-Related Mental Health and Neurocognitive Concerns | The goals of this intermediate-level webinar are to provide an overview of deployment-related mental health and brain health concerns, discuss how to screen for symptoms, and offer information on where to refer for additional services. | ID: 1098326 | ID: 43888 |
| Military Sexual Trauma: Past, Present and Future | Military Sexual Trauma (MST) affects female and male service members and history of MST is associated with PTSD, suicide, and variety of other biopsychosocial issues affecting post-deployment health. This webinar discusses MST, its available resources for Veterans and their Providers impacted by it. | ID: 1098237 | ID: 43756 |
| Communication about Exposures & Deployment Related Health Concerns | This webinar provides information and knowledge on the concepts of moral injury, institutional betrayal, and institutional courage as applied to exposure concerns and the health care of Veterans to help providers respond to institutional concerns in a way that builds rapport and promotes institutional courage. | ID: 1098233 | ID: 44119 |
| Mobile Health Apps to Supplement Care | Basic functionality of VA mobile mental health apps, case usage, and Veteran frameworks for evaluating the healthcare benefits of such apps are discussed in this webinar. | ID: 1098251 | ID: 43946 |
| Institutional Betrayal & Courage in Addressing Veteran Exposure Concerns | This webinar provides information and knowledge on the concepts of moral injury, institutional betrayal, and institutional courage as applied to exposure concerns and the health care of Veterans to help providers respond to institutional concerns in a way that builds rapport and promotes institutional courage. | ID: 1096883 | ID: 43373 |
To see a list of all webinars on TRAIN, click here. If you have difficulty accessing a training, please contact njwriiscedteam@va.gov
return to top